Erasmus+ Visit to London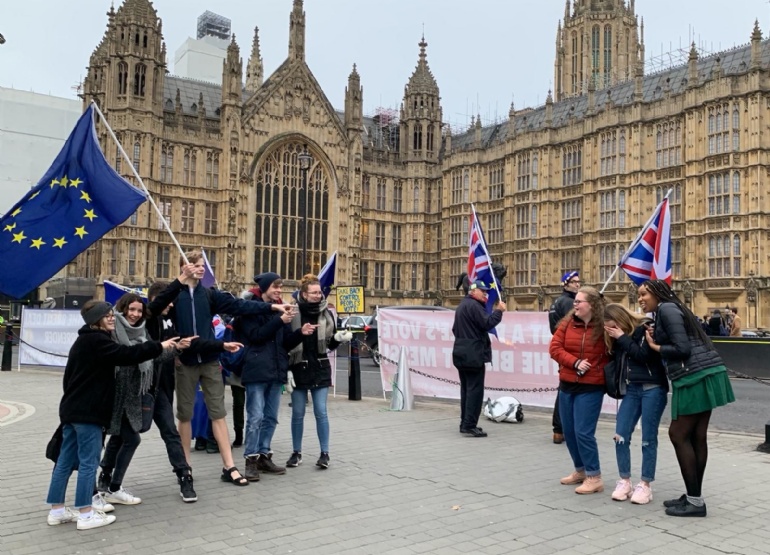 Last week Highlands School Science Faculty welcomed 25 students and their teachers from Denmark, France, Germany, Finland and Poland as part of a two-year project titled "Radiation: Blessing or Curse?".
This unique project gives our students and students of other countries the opportunity to learn about a fascinating scientific topic as well as experience each other's cultures.
The week kicked off with a lecture by Professor Jon Butterworth, UCL Physics lecturer and well renowned Physics author who has worked on many projects at CERN. He introduced us to the fundamental subatomic particles which gave us a good grounding for understanding radiation further.
On Tuesday the students took part in a 'London Landmark Challenge' which enabled our guests to visit many famous London sites and have a little fun along the way! Tasks such as "express your opinions about BREXIT in front of the Houses of Parliament", "Hold the London Eye", and tracking down blue plaques of famous British Scientists such as Ada Lovelace and Alan Turing were a few of the challenges listed.
On Wednesday we visited Leicester University to learn about how radiation can both cure and cause cancer, and got to extract some DNA from a banana! On Thursday we visited the Oxford Carbon Accelerator unit where we were taught how isotopes of carbon can be used to date very old objects (and even some less old objects, such as vintage whiskey). We were also lucky enough to have a rare guided tour of the labs to see the mass spectrometer and how samples are prepared. Of course there was a bit of spare time to explore the wonderful city of Oxford afterwards.
To round off the week the students wrote articles and made display boards about all they had learnt. A final farewell party was held on Friday night, where families hosting the European students were invited to celebrate their achievements and eat some tasty pizza!
We will be continuing our learning on this topic in Copenhagen, Denmark in May 2019 where we will focus on the use of X-rays.
Well done to all the students that took part, and thank you once again to all the families that hosted a European student and helped to make the week a real success.
Miss Al-Obaidi