New York Trip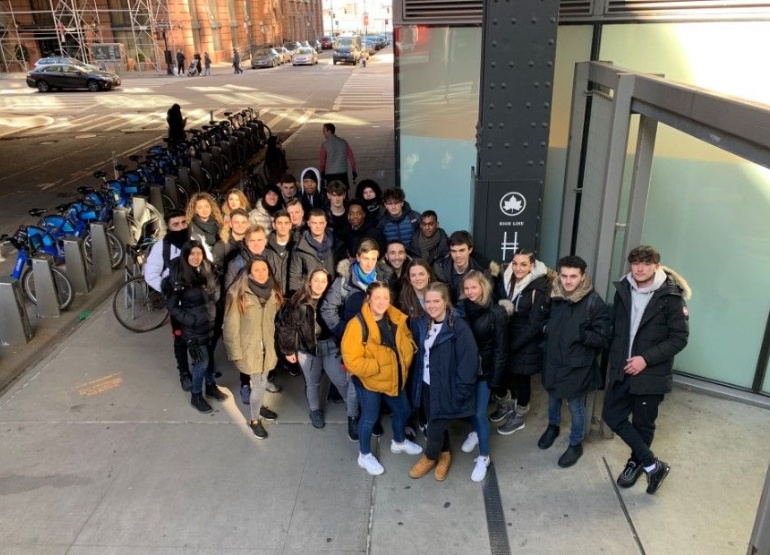 After 8 hours on a plane, we landed at JFK and made our way to our hotel.
A brief stop was followed by a quick meal at Wendy's, before going 86 stories up the Empire State Building, to the outdoor observation deck. The breath-taking view highlighted why New York is known as the City of Lights and the City that never sleeps.
After a jet lagged sleep, we wrapped up warm and prepared for the cold city weather, and ventured towards the High Line. An intriguing and inspiring walk along this abandoned railroad gave us a fascinating alternative perspective of the city. We ended the tour at the Chelsea food market, which offered a huge variety of delicious food. In the afternoon, we went to Macy's department store for some retail therapy, and the evening allowed us to take a visit to Times Square, a sight well worth seeing.
The next morning, we had an early start to head down to the Liberty Island Ferry, to see the iconic symbol of New York. The Island allowed an amazing view of the Manhattan Skyline and gave an insight into the historic events of New York. We then headed back to the mainland and into the financial district for a guided walking tour of Wall Street. The tour offered an incredible insight into the economic history of the area and ended with a symbolic moment of reflection at Ground Zero.
On the fourth day, we went to Central Park, taking a relaxing walk around the beautiful surroundings of the park, an oasis in the middle of an otherwise bustling city. We then went to Bloomingdale's Department Store and experienced New York's high-end shopping experience. We had a group dinner at Bubba Gump Shrimp in Times Square, before taking the subway to Brooklyn Bridge, all lit-up and providing spectacular views across the water towards Manhattan Island.
The final day brought snowfall, casting a wintry look upon New York, and allowed for a more relaxing explore around our hotel and local area, including some last-minute shopping, before returning to JFK and reflecting on a fantastic experience in this unique city.
Written by: George Buttery, Amy Walsh, Henry Galano, Alessandra Scibetta and Maria Briffa.