Barcelona Trip Diary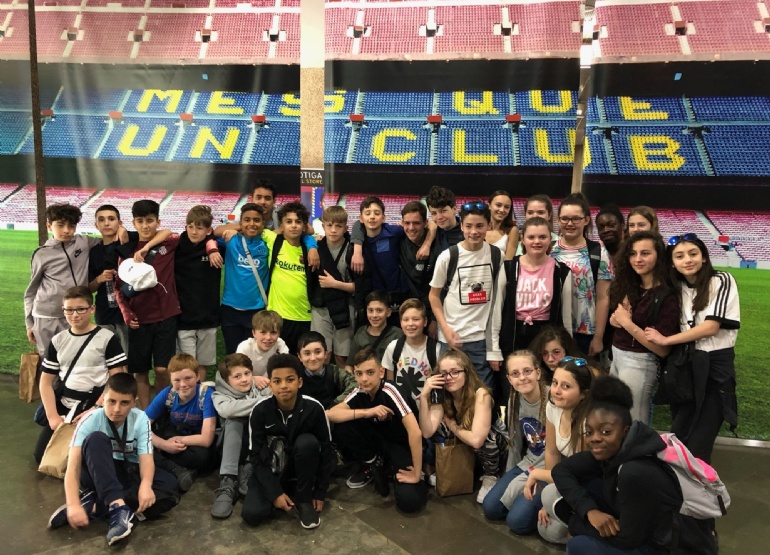 Spain – Barcelona 22nd March – 24th March 2019
Teachers: Mr Perlumiere, Ms Constantas, Mrs Miller, Mr Lopez.
Location: Barcelona (Spain)
Friday 22nd March: We woke up very early in the morning at around 2:30am to be at Highlands School for 3:00am in order to get on the coach to Heathrow International Airport. As soon as we arrived, we checked in our suitcases and went through passport control. A few minutes later, we were allowed to wonder around the airport in groups. We needed to make sure that we ate breakfast. The plane departed at 6:15am. After a 3-hour plane journey, we collected our suitcases and set off on a coach to the Barcelona Urbany Hostel, where we dropped off our luggage and started off our day. After being given metro tickets, we took the metro to go to Las Ramblas (a crowded street in Barcelona.) There, we visited the Boqueria market for a bit and went to Las Arenas: a bullring turned into a shopping centre. Later, we went to the beach, where I played football with my friends. At around 6:00pm, we headed back to the hostel and had our evening meal. After eating, we went back to our rooms and tried to get some rest for the next day.
Saturday 23rd March: After waking up, we all headed down to the breakfast area and ate. As soon as we had finished eating, we went on the metro to visit the amazing Sagrada Familia Cathedral. We took lots of photos of the 557.74 ft. Cathedral. Inside, there were lots of vibrant, colourful, stained glass windows. Just before going to the BC Barcelona Football Stadium – the Camp Nou – we got some lunch. Once again, we caught the metro to go to the amazing Camp Nou. Once we were there, we saw all of the trophies FC Barcelona has won. We went up to the seats of the stadium, where everyone took lots of lovely photos. Just before we left, we had a chance to go to the official store to buy anything we could. On the way to the restaurant where we ate tapas, we quickly had time around the Gothic Quarter. I really enjoyed the tapas meal at Nervion Restaurant – it was very filling! Just before going back to the hostel, we went and saw the Magic Fountain of Monjuic. The water changed to several colours and sprayed out in many different ways and styles. We took lots of photos.
Sunday 24th March: The final day. We spent lots of time around the beach this day. We played football and went around shopping. After a long time, we got some lunch. We used the metro to travel the Ciutadella Park, where there was a beautiful water fountain. Once again, I played football and before you knew it, it was time to go back to the hostel to get ready to go to the airport. Once arriving at the hostel we waited for an hour or so. During this time, I played pool with my friends. We went on the coach to go to the El Prat De Llobregat Airport. We checked in our suitcases, ate dinner and at 8:30 pm we had to get on the plane. After another 3-hour plane journey we had arrived back in England at Heathrow International Airport. From there, we got a coach back to Highlands School where our parents waited to pick us up.
I really enjoyed the trip to Barcelona. Thank you Mr Perlumiere for organising the trip and Ms Constantas, Mrs Miller and Mr Lopez for all your help.
Alexander Tofallis (8ONO)