Highlands New School Uniform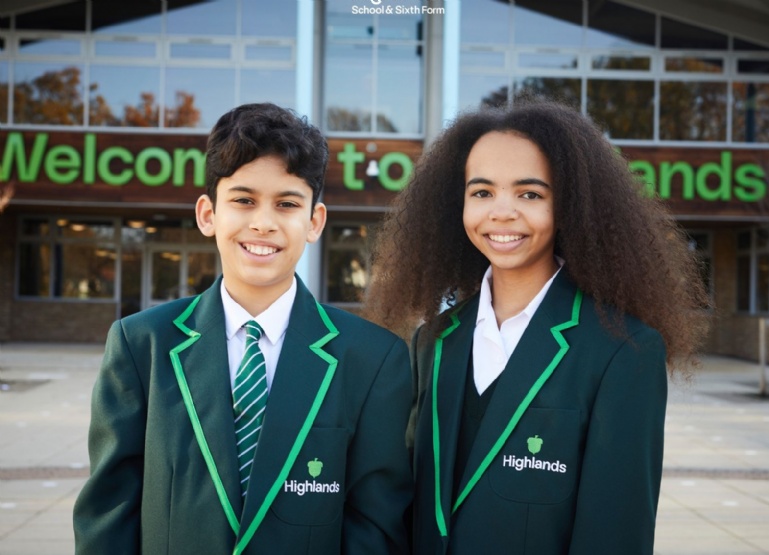 Highlands School - New School Uniform, September 2023
In September 2023, Highlands will launch a new school uniform.
Our new uniform not only looks great, it is cheaper than the old one, more environmentally friendly (it is made of recycled materials) and is gender-neutral.
The uniform will be worn by the students who join us in year 7 in September 2023 and by the students currently in years 7, 8 and 9. The current year 10 students will keep the old uniform when they join year 11.
We started the process of reviewing our uniform when, as Highlands School approached its 20th anniversary in 2020, the governors felt it would be a good time, with school leaders, to take a look at all aspects of our school and ask what we should change, what we should keep and what we should improve.
We posed these questions to students, parents and carers, staff, governors and even members of the public who live near our school. We learned a lot about perceptions of Highlands.
Overall, there was a feeling that the school's identity was closely linked to the school setting, surrounded by trees and parkland. The colour green was popular, as was the acorn, the school logo. However, there was a view that the uniform was a bit dated and items, particularly the blazer, was expensive when compared with other schools.
This September we launched our new school logo, new logos for each of our houses and a new green colour scheme. We have fantastic new artwork and banners around the school building reflecting the modern, dynamic and successful school we are. The next phase of this work is updating our uniform.
We are delighted and excited to share our new uniform with families and the school community, and we look forward to seeing students wearing it in September 2023.
Download our new school uniform brochure by CLICKING HERE or via the downloadable link below which contains more information about our new uniform. You can also CLICK HERE to view our new school uniform promotional video.