Languages Week 26th-29th September 2017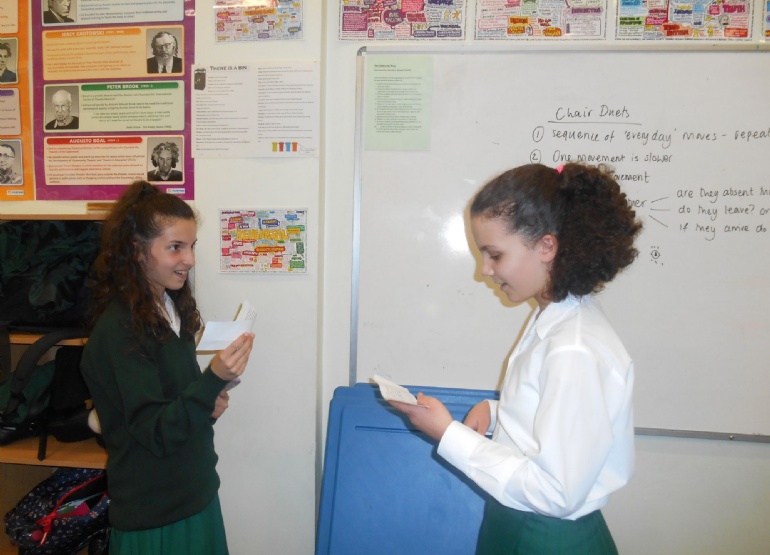 The pupils enjoyed celebrating Languages Week with a form time quiz, poster competitions, assemblies, theatre groups and cross-curricular Drama/Music and MFL lessons. During the week there were postcards, house points and prizes issued to the best languages week poster/poem/cultural piece of work from Year 7, 8 and 9.
The winners of the poster competition were:
Yr 7 French - Alexia Horea
Yr 7 Spanish – Archie Perkins
Yr 8 French - Marhia Satti
Yr 8 Spanish - Mariella Holder, Amy Ellerby, Saskya Omani, Tvisha Gupta
Yr 9 French - Augusto D'Agostino
Yr 9 Spanish – Katerina Gorishna
The winning form groups of the MFL form time quiz were:
1st prize 8RJJ - 100 house points
2nd Prize 10ODC - 50 house points
3rd prize 11RMC - 25 house points
Well done to all pupils who participated and especially to the winners!
Year 7 Cross curricular Drama, Music and MFL Lesson
The Year 7 thoroughly enjoyed their cross-curricular lesson on Drama and French/Spanish and also on Music and French/Spanish. Year 7 really made a lot of effort in their French and Spanish dialogues during the Drama lessons and also did some excellent singing of the French song "La Seine" and the Spanish song "Vivir mi vida" during their music lessons. Well done Year 7!
Year 8 French and Spanish Theatre Groups
On 4th and 11th October all Year 8 pupils enjoyed the French workshop about The Three Musketeers and the Spanish workshop about Don Quijote. The pupils really enjoyed participating, the choral repetition of the French and Spanish key lines and individuals took on some of the roles in the plays with great enthusiasm. It was very entertaining and lovely to see pupils really making a real effort to use their French and Spanish in a creative way. Well done to all!
Mrs Di Piazza, MFL Faculty