Education Extra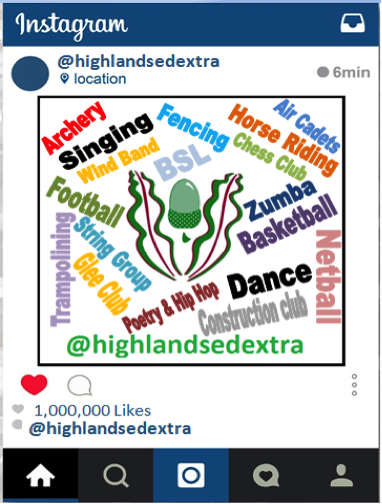 Highlands School is very pleased to offer a wealth of activities under our Education Extra programme. Activities are offered at lunch-time, after school and even off-site. These have proved to be popular with all year groups and abilities.
Our students have been offered a great rate for horse riding sessions at Trent Park Stables- £18 a session, a reduction of over 50%.
The PE Department do a fantastic job in holding a variety of clubs from football and netball to trampolining and rounders and they successfully compete in competitions on a borough and national level.
There is a free club for everyone! From the chess club and dance club to gardening clubs, as well as opportunities to make suggestions for future clubs. We look forward to your child's participation.
Please see below for a full list of the clubs that are offered and do follow our instagram page for updates 'Highlandsedextra':
British Sign Language Club
Musical Theatre/ Glee Group
String Group
Wind Band
Lunch time singing group
Learning Support clubs
Sculpture Club
Handwriting Club
Air Cadets 2473 Squadron
Homework Club
Running Club
Turkish Club
Science club
Rugby Club
Knit-Knack Club