Year 6 to 7 Transition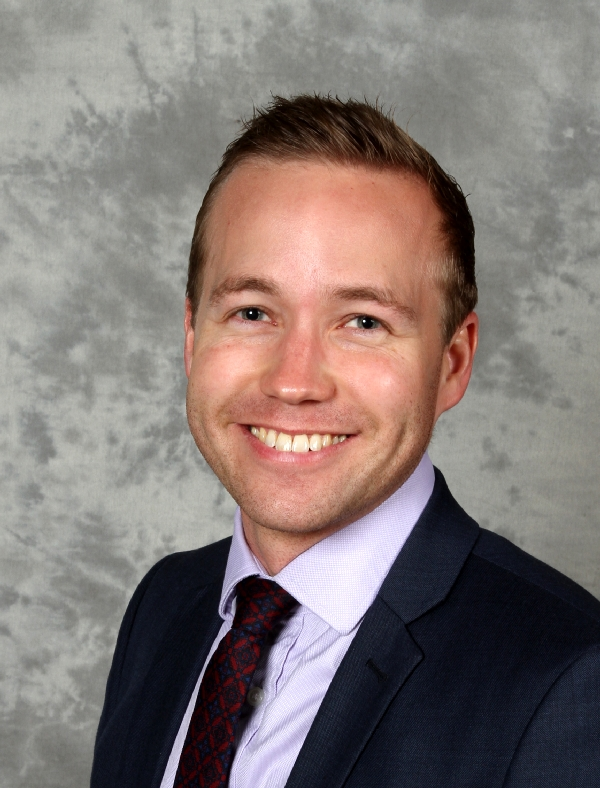 Welcome from the transition coordinator, Mr Larter
My role is to work with the head of year 7, our wider pastoral team and our feeder primary schools to make sure that your child has a smooth transition to secondary school. I also work closely with all staff to make sure that our children feel safe, settled and ready to take on the many opportunities that await them.
Visits to our feeder primary schools take place in the year. This allows me to work closely with year 6 teachers and introduce myself to year 6 children. I am in contact with all of our primary feeder schools where we work together so that I am fully informed about your child.
When your child joins us, our year 7 pastoral team will work tirelessly to make sure that all children feel welcome, safe and secure.
Key Information
Documentation
A welcome letter with a link to a google survey has been sent out on 16 June 2020 to parents. Please complete this pupil record form fully by Tuesday 23rd June 2020 to ensure that we have the correct information for your child.
Transition events
Unfortunately, due to social distancing measures in place, our scheduled transition evening (2nd July) and year 6 induction day (3rd July) will not go ahead. Please be reassured that we will do all we can to support all of our new students to have a smooth and supportive transition to Highlands School.
In July we will release a transition video which will give a virtual tour of the school as well as other information to support your child with the transition.
Uniform
We have two local uniform suppliers, who can offer you full advice on our uniform as well as personal appointments to visit their shops. Please find information using this link
Form grouping
We are currently working closely with our feeder primary schools to find out more about your child. This information allows me to create well balanced form groups. Each year group has 8 form groups in it and two are placed into each of our 4 different houses (Beech, Oak, Rowan and Willow). Most lessons in year 7 are taught as a form group, with the exception of Maths, which often places the year 7 students into sets early on.
When making the form groups we aim to make them balanced with a mixed group of students to reflect our society. We do not allocate form groups based on previous friendships for three main reasons.
Students will be able to see their friends before school, after school, at break time and during lunchtime. The lesson time is focussed on learning.

Friendship groups often change in year 7 as students are now exposed to over 240 students in their year group.

We want to support our students in developing the skills necessary to make new friendships and work well with a variety of other students.
If there is a student who your child has had any issues with in the past please let us know as soon as possible and we will do our best to take that into account when we make the form groups.
We will contact you in July to inform you which form your child has been allocated to you. Please note once these forms groups are assigned it is highly unlikely we will be able to make any changes to them.
Language choice
At Highlands School we offer Spanish and French. In the pupil record form you will find a section asking for your child's language preference. Please be aware that this is a chance to express your preference but we are unable to guarantee that your child will be assigned to that language. Historically, more of our students wish to study Spanish but we can only offer this to half of the year group. Half of the year group will study French and the other half will study Spanish.
Special Educational Needs
Our feeder primary schools are currently in the process of sharing their information on the students who are currently on the Special Educational Needs register with us. Our SEN team, led by Mrs Adu, will be in touch in due course with the parents of students on that register. If you have any questions in the meantime for our SEN team please email us at transition@highlearn.uk and someone from our SEN team will respond.
Payments
We appreciate you will have a lot of outgoings with the purchase of the school uniform so wish to give you plenty of notice for other payments that will need to be taken into account. Please be aware that a £50 refundable book deposit for each child, together with a charge of £8.50 for a locker padlock and a £10 voluntary technology contribution (total £68.50) will need to be paid before September 2020. Further details, along with your login details to our payment service, will be provided at a later date.
If you would like to make a voluntary contribution to our school fund please use the document linked at the top of the page.
Virtual induction website
Please click on the link HERE to view our virtual induction website.
Enfield Music Service (EMS)
You may be aware that Enfield Music Service (EMS) has been providing online lessons during the summer term. For continuity, we have maintained pupils with their existing teachers wherever possible.
Lessons will continue online in the autumn term until it is possible for tutors to return to delivering face to face lessons in school. EMS have launched this offer on the music store and parents are now able to book autumn term lessons by visiting the website HERE and logging into their account.
EMS are only able to offer individual lessons, so parents will be able to choose from:
10 x 30 minute individual lessons
10 x 20 minute individual lessons
5 x 30 minute individual lessons (delivered fortnightly)
5 x 20 minute individual lessons (delivered fortnightly)
They are currently only able to offer lessons to new pupils on the following instruments:
Piano
Keyboard
Guitar
Ukulele
Recorder
Tin Whistle
All other instruments are limited to existing learners for the autumn term.
Should you need to contact Enfield Music Service please email enfieldmusicservice@enfield.gov.uk, enfieldmusicservice@enfield.gov.uk or call 020 8807 8881.
LAMDA speech and drama tuition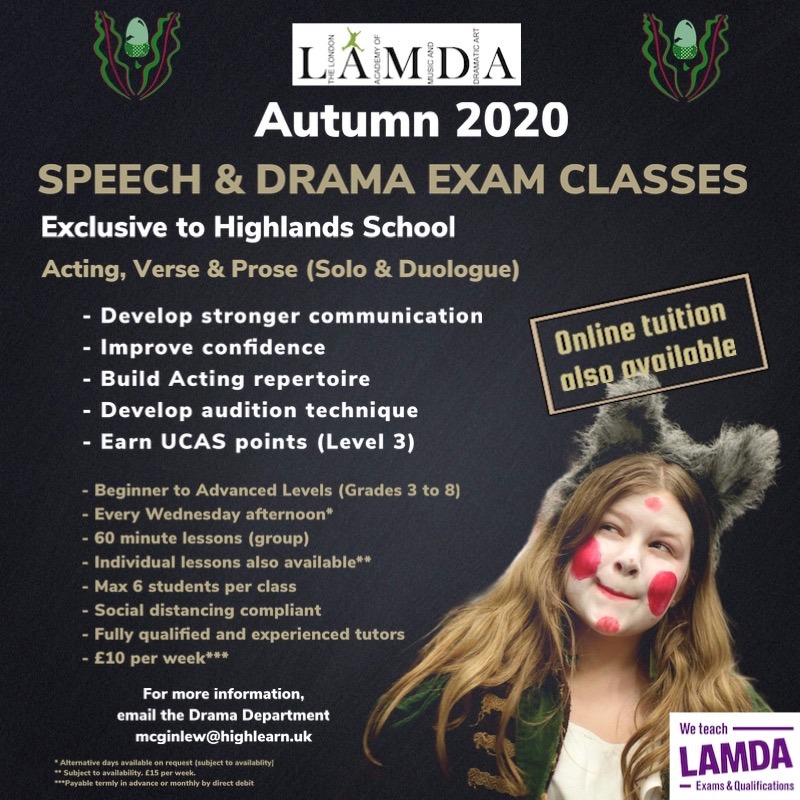 As part of the extended drama curriculum at Highlands School, students in all year groups have the option to take LAMDA speech and drama examinations.
As well as being a globally recognised qualification, LAMDA exams build confidence, develop public speaking and acting skills as well as audition technique. Higher grades even carry valuable UCAS points, used for gaining college and university places.
Suitable for all levels of experience, ages and abilities from grade 3 (beginner/year 7) to grade 8 (advanced, gold medal, year 12/13).
Classes are every Wednesday during term time, starting after normal lessons and last for 1 hour. A full timetable will be published before term begins.
Group classes are restricted to 6 students while social distancing requirements are in place. Solo and online lessons are also available on request.
Tuition is supplied by an external provider with a team of qualified and experienced tutors and students should expect to take exams once a year, usually in the summer term. Exams take place at Highlands School.
Group lessons cost £10 per week per student and can be paid termly in advance or by monthly direct debit (admin fees may apply).
For more information or to book a class, please email Mr McGinley in the Drama department on mcginlew@highlearn.uk
Contact Us
If you have any further questions please email us at transition@highlearn.uk and we will get back to you.