Headteacher Awards
​Congratulations to students who have been awarded for their achievements:
Emmanuel Yedu
For outstanding service to the school community. This student has demonstrated a remarkable commitment to other students from collecting SLT detentions to peer mentoring, responding in situations and not reacting. He is a great role model for younger students and is always called on to help and never says no.
Amara Anglin, Anastasia Chrysantou, Julia Spagnoli, Augusto D'Agostino, Bianca D'Agostino, Rosina D'Agostino, Molly Gill, Erin Ginty, Hannah Griffith, Lorena Navea, Sanjana Persand and Alan Petritaj.
Congratulations for winning a medal for excellence at the "speak to me" inter-school competition for MFL on 4th July 2018. Well done for the outstanding work done in preparing, learning and acting out the dialogues with accuracy, enthusiasm and originality in the target language.
Maddison Miller
For doing an excellent job organising and presenting Highlands Got Talent.
Henry Gallano
For helping to set up and throughout the Art show.
Patrick Jackson
For exceptional effort in Art.
Sharuja Karan, Alsa Giachia, Caterina Thompson, Madi Taitt, Marianna Martin, Shai Mclune-Henry, Jack Athanasiou, Jude Aspland, Eleni Antoniou, Emma Lord, Laurence O'Mahoney, Mariella Angate, Saronick Sasikumar, Owen Edwards, Rianna Biswas and Moneera Ali.
The Top 6 Judge's Choice Finalists for Highland's Got Talent.
Las Bisary and Raynard Banigo
For filming a brilliant video for Highlands Got Talent.
Naseem Miah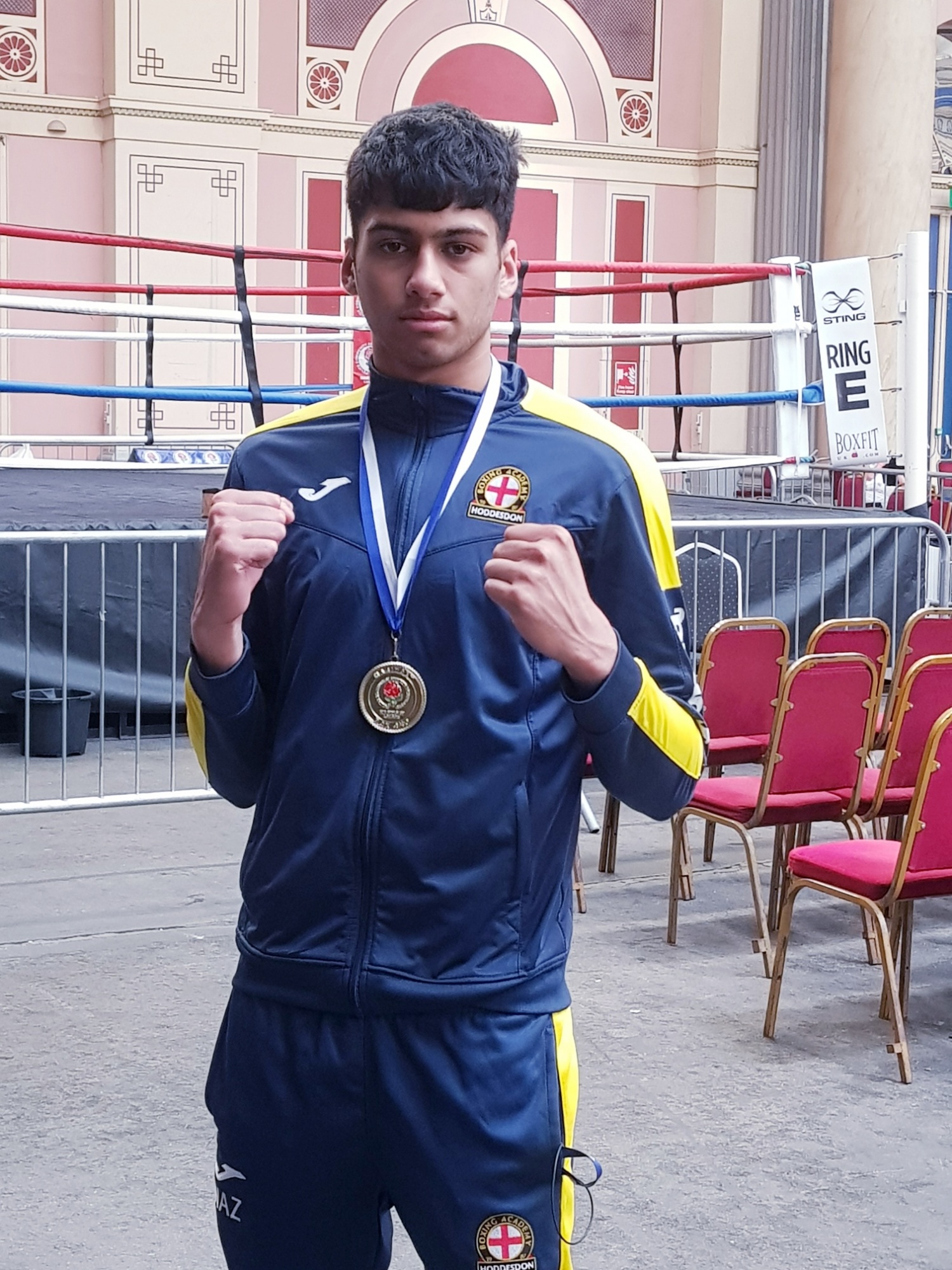 For winning the gold medal at the Haringey Cup, an international boxing competition. Naseem had three fights over the three days and won all of them.
Jem Bekir
For working really hard in English all year and making real improvements in English.
Julia Spagnoli, Amelie Smith, Anastasia Chrysanthou, Francesca Bocchetti, Eleanor Dagger, Yasmin Campbell, Claudia Sanjurjo Pfitzmann, Henna Sethi and Saira Dias Weerasinha.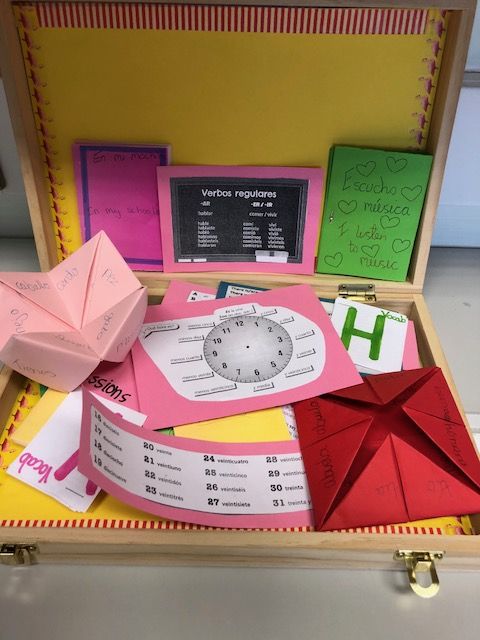 ¡Enhorabuena!
You have performed an Outstanding use of the target language in a very creative way to design a Spanish Revision Interactive Folder.
Sylvie Hanlon, Isabella Pieretti, Julia Spagnoli, Anastasia Chrysanthou, Bianca D'Agostino, Rosina D'Agostino and Isabella Gormley.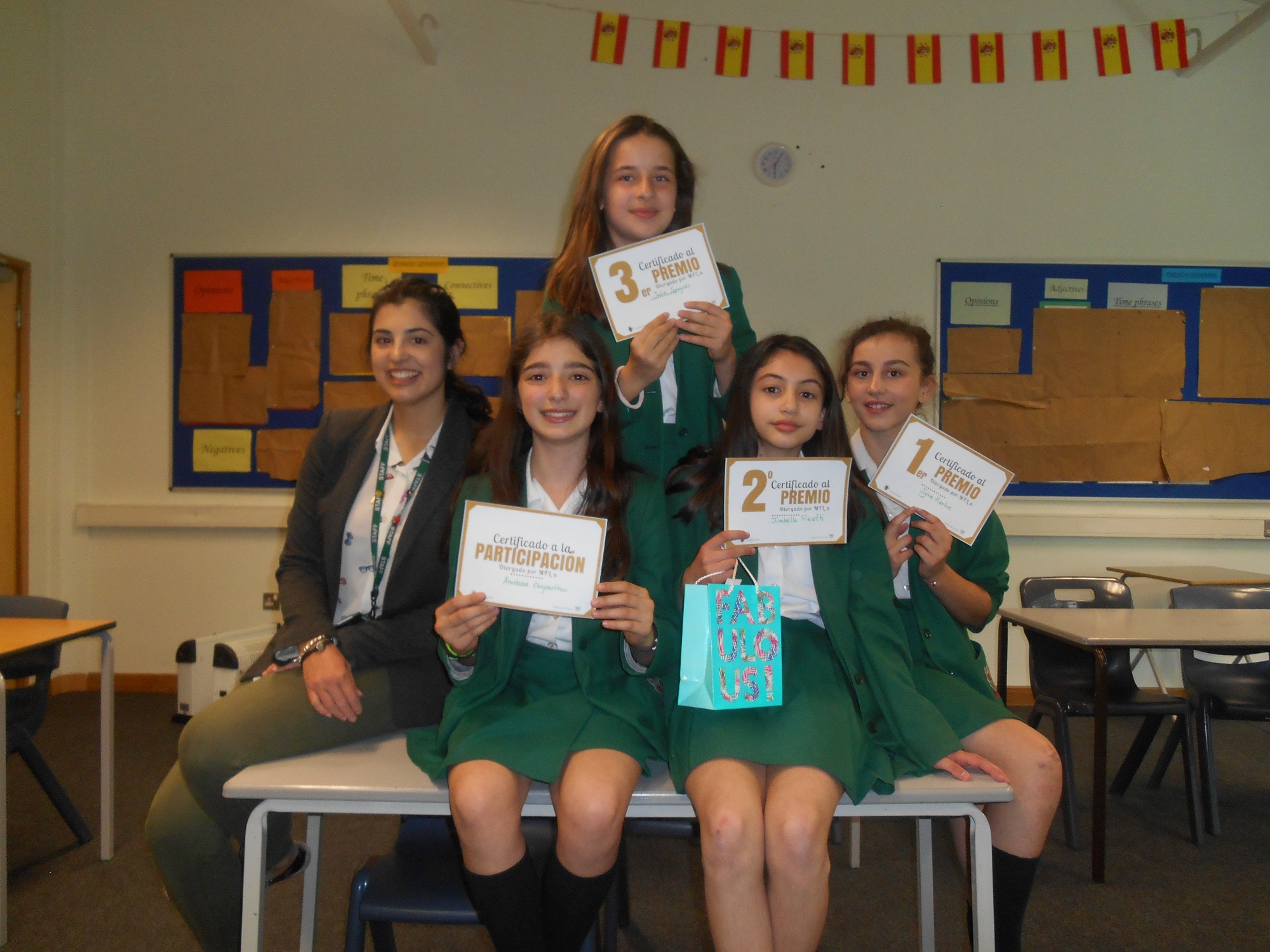 For their outstanding achievements in the French and Spanish spelling bee this year.
Spanish:
1st Sylvie Hanlon
2nd Isabella Pieretti
3rd Julia Spagnoli
4th Anastasia Chrysanthou
French:
1st Bianca D'Agostino
2nd Rosina D'Agostino
3rd Isabella Gormley
Ben Simon and Alex Janczur
For their Outstanding French homework. The boys have made a video in which they are conducted an interview with a French football player. Their innovative use of the French language, the different sets used as well as the editing were a real treat.
Rosina D'Agostino, Bianca D'Agostino, Eleni Demetri, Kristiana Alexandrou, Emily McGill, James Wright, Emma Lord, Harry Swanton, Katie Gallagher, Syenna Ferria, Mia Kyprianou and Eftelya Polat-Kaya.

Well done for the phenomenal effort made with the reading challenge and the amazing visual representation you produced.
Reece Valassis
For superb work and effort throughout the year and a particularly strong response to Shakespeare.
For creating and cooking an excellent meal as part of his individual cooking project and for all his hard work and effort this term.
Henry Galano, Elizabeth Flower and Augusto D'Agostino.
For producing amazing art work for the Enfield Market Charter Fayre.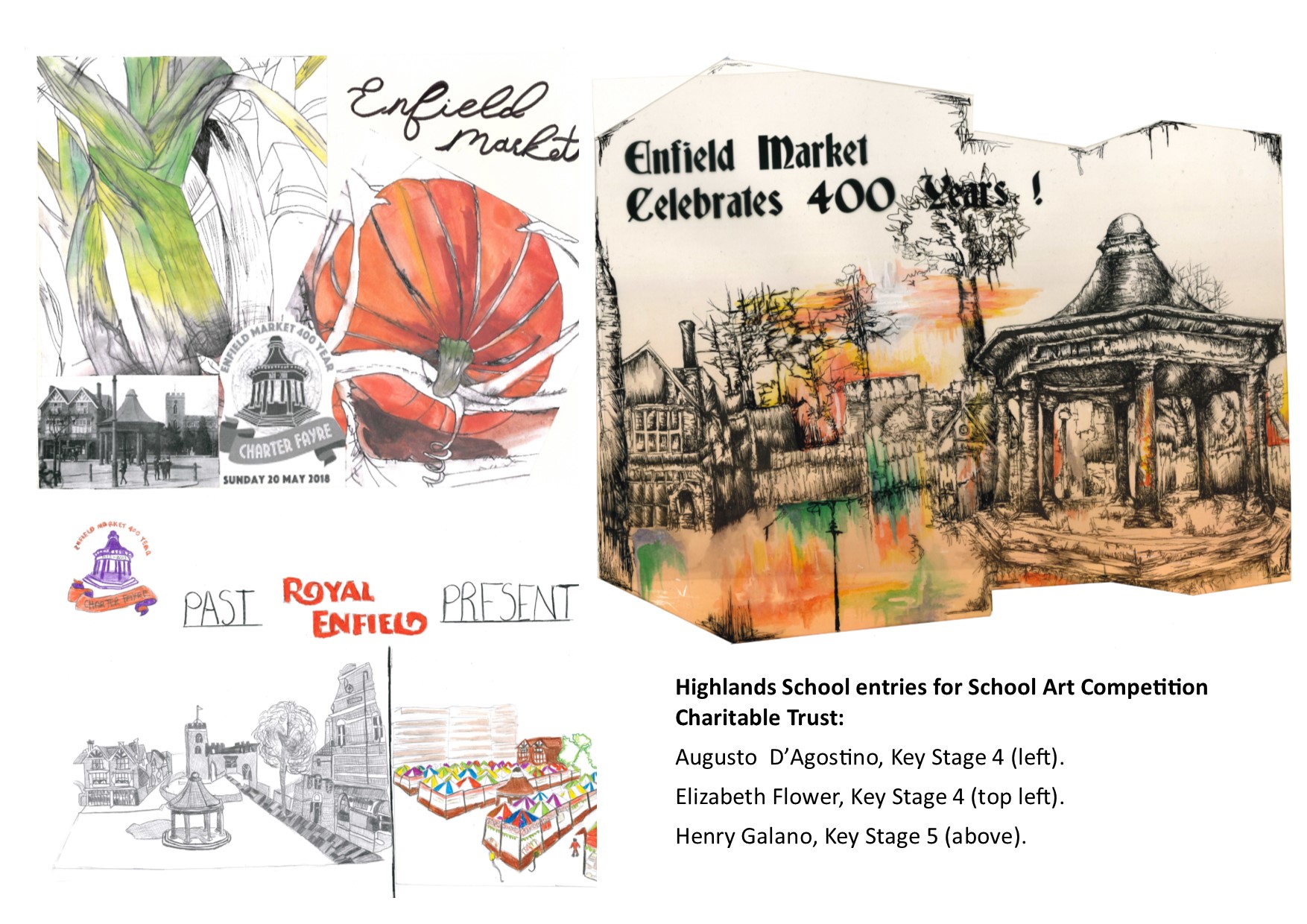 Joshua Aidoo Morrison
For supporting a student through personal difficulties and helping with the basketball team.
Paolo Saturino
For outstanding efforts and consistent application in English.
Emily Gilmore White, Luke Gilmore White, Thomas Charnock, Sybelle Mehmet, Lily Pain, Adam Williams and Albert Watson.
For commitment to learning and making excellent progress in English.
Rosina D'Agostino and Alexia Horea
For producing outstanding homework in Science.
Izel Moustafa

For great progress in English Literature and displaying excellent resilience.
Ava Wynter
For outstanding effort with an English project that exceeded all expectations. A beautiful and impressive piece of work you should be very proud of, well done!
Gaby Greenwood, Yasmin Smith and Emilia Doorbeejah.

Outstanding Efforts and Progress over the Easter holidays to produce work of the very highest standard.
Chloe Edwards and Jessica Biggins

For an excellent presentation to staff about SEN support strategies.
Claudia Sanjurjo Pfitzman, Ella Rogers, Saira Dias Weerasinha and Henna Sethi.
For an Outstanding use of the target language in a very creative way to design a Spanish game.
Kayla Appanah
Kayla has worked very hard and demonstrated excellent resilience to make great progress in English.
Luca Rosen, Mya Patel & Freya Nice.

For fantastic effort and outcomes for Easter homework on a charity project.
Emma Quille, Shoma Majumda, Callum Judd & Will Howell.
Deserve congratulations for their outstanding contribution to the English faculty and school community through working with year 8 students on an English intervention scheme.